In Search Of The Lost Nightmare
My all-time favorite band is the Moody Blues. No kidding. In the 1960's and '70's they released seven albums that really hit my musical sweet-spot, combining fantastic melodies with an orchestral sound provided by the mellotron, sort of a Sgt. Pepper meets the Hollies combination.
But their other outstanding feature was the album cover paintings by Phil Travers.They usually featured a montage of fantastic imagery starting with In Search Of The Lost Chord, my first Moodies album.The painting shows an ancient monk meditating his way into a rising state of ecstatic bliss.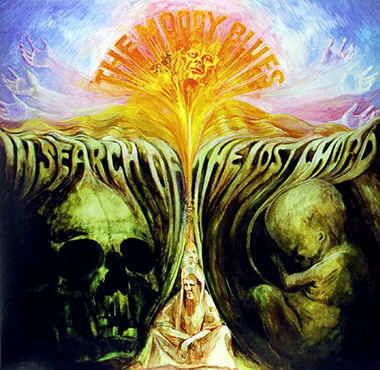 The art had a subconscious effect on F&L art, but with a distinct twist, because as Tina Turner said on Proud Mary, "We never, ever do anything nice.....and easy". So when I was designing one of our website home pages using a collage of images from our old paintings and our portrait photos, I began to notice a familiar composition forming, so I pushed it further. It was also my first attempt to animate the picture, morphing our photos into monsters.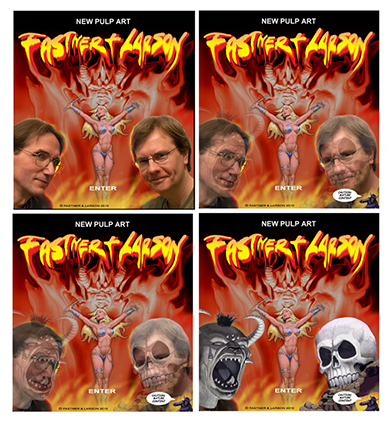 You'll notice that Rich is "death", and I'm the "demonater".
We also did cover art for some heavy metal bands in the 1980's and '90's, one in particular for the band Intruder, for their disc titled Escape From Pain. Band member John Pieroni provided the idea, which was designed and drawn by Rich, and I provided the airbrush rendering. You'll notice that once again the subject is escaping his earthly bonds by having a mental out-of-the- body
experience.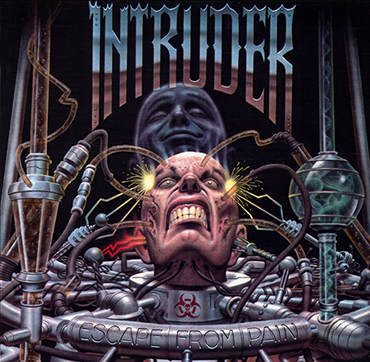 You could say our motto is Ride My Chainsaw.