In the

everything old is new again

department, check out the Daily Bugle headline in the larger image of this portfolio plate from 1981...

1/27/06

While Steve continues to blast away at paintings for our next collection (see below), Rich will pack up the F&L original art portfolios next month and head out to San Francisco for Wondercon 2006. WC has been brought to you for a few years now by the same folks who somehow manage to safely land the city-sized zeppelin that San Diego Comic-Con has become, so a good time should be had by all. If they can find a place to park.

If Rich remembers correctly from his days as a vastly overpaid storyboard guy at Colossal Pictures, the Bay Area doesn't exactly roll out the red carpet for purveyors of female objectification, so we may switch out some of the babe stuff for older material (e.g, Judge Dredd covers; an album cover rough or two). Some of it. There'll still be plenty of impetus for the odd derisive snort or harangue. And this might be the time to mention that Rich is comfortable not only with verbal abuse, but equal-opportunity exploitation as well. So if you're coming, and scantily-clad fantasy chicks make you feel icky, why not stop by his table in Artist Alley for a spicy sketch of, say, Warlord, or Magnus Robot Fighter?

Speaking of album covers, we just touched base with Intruder, who tell us that their debut Metal Blade classic, A Higher Form of Killing, has just been reissued. We did the cover art for that disk, as well as Escape From Pain and Psycho-Savant--and you can see all three images on the band's website. (Below is the Escape From Pain image in T-shirt form.)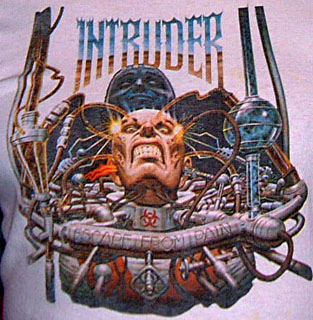 And speaking of escaping from pain (and shifting gears so abruptly your molars may fly out the back of your skull) work continues apace on the Sweet Cheeks project...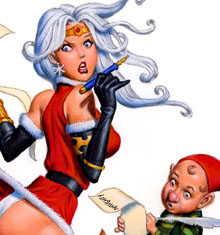 ...a collection of brand new paintings, the subject matter of which you'll have to divine for yourself from these sneak preview vignettes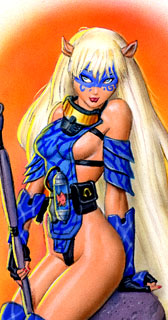 and those in our last update, below. Yes, your girlfriend will be offended.
We're also gearing up for a second release this year, in which we'll be returning--for the first time in years--to the always-popular Haunted House of Lingerie format. This collection, however, will feature a few less monsters and a little more...restraint. If we're not all tied up with other stuff (that college copywriting class is really coming in handy now) F&L's Bed & Bondage, with all-new drawings, paintings, and a story or two, will be slouching your way this summer. And, yes, your gf will be really offended.
10.23.05
As Criswell might say, "Important future F&L things will be happening...in the future!"
Or to narrow it down: if our heads don't explode and our publishers don't retire to the Caymans like they've been threatening to do for the last five years, we could be looking at two new F&L books out in 2006.
Book one:
Perhaps you've found yourself saying (under your breath, of course, so as not to offend our sensitive natures), "Why don't those maroons put out a collection of brand new full page paintings? Of just smokin' fantasy babes--no super-heroes or Hobbits (unless they're babes)...and with a suggested retail price of $2.99?"
As it so happens, we're knee deep in that very project right now.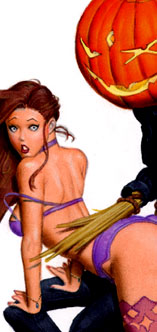 The cover price is out of our hands, but we're currently a little better than a quarter of the way through a series of 40+ new marker and airbrush paintings for Fastner & Larson's Sweet Cheeks, Vol. I, a piquant, pin-up-y compendium slated for release next summer.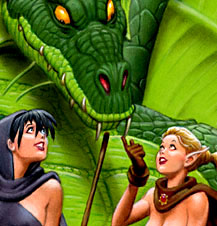 We've heard the attendance at San Diego Comic-Con this year was something over 100,000. If just half of you were to swing by the SQP booth in 2006 for your hot-off-the-presses autographed copy of F&L's Sweet Cheeks, it would make the bus ride back to Minneapolis that much more enjoyable.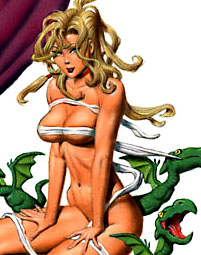 The SQP boys like to keep their friends close, their enemies closer, and their in-the-works projects under their hats, but they've agreed to let us sneak these Sweet Cheeks vignettes to, as they put it, "get the anticipatory juices flowing".

As unhygienic as that sounds, we'll have more for you as things get further along.

Book two:

This project is on the back burner until we've gotten a little deeper into Sweet Cheeks (so to speak). The book is in its formative stages, and will go in one of two directions, either of which will be a little different in theme and/or medium than what has come before in the F&L oeuvre. We should have a few less vague things to say about it around December.

8.23.05

Little Black Book 3 is out, and we initially thought we'd celebrate by offering a limited, signed bookplate of an unpublished F&L image with each copy bought directly from us.

But a brief, heated confab with our marketing vermin convinced us that variety is the key to separating you from your discretionary income.

So if you haven't gotten your LBB 3 yet, and you've ever said to yourself, "Yes, I believe I"d enjoy owning an F&L print, but there's not a chance in hell I'm forking over $10 for one," see if this might be to your liking.

6.15.05

We know: it's been six months. Don't yell at us.

We've been away for a while (not in rehab, as our enemies might suggest), doing what needed to be done, and probably taking way too long to do it. Here's what we've been up to:

F&L's Little Black Book Vol. 3! Twenty-two new paintings produced exclusively for this collection! Untold months in the making!

The First Contact with a Jaw-Droppingly Clueless Visitor from Another World Project. A graphic novel written by Bob Keenan, drawn by Rich, and with an F&L cover. A sneak peek should be on the publisher's site in the not-too-distant future. But they have a vast amount of product to pound into shape, so be patient.

We're crossing our fingers that both of these must-have items will debut at Comic-Con in San Diego. And speaking of cons...

Here's the F&L convention schedule for the rest of 2005:

July 1-3 -- Convergence, Minneapolis. The only other con this year where you'll find both inmates of the F&L asylum wandering around without their keepers. Attendees of Minicon 40 will confirm that the whole is more entertaining than the sum of the parts, provided we slip them a dollar. We'll have art in the Art Show, and prints in the Print Shop. Please find us--day or night--and proffer a frosty malt beverage.

July 14-17 -- Comic-Con International,San Diego. Figure out how much money you'll need, and bring three times that amount. Smoke will be pouring out of the ATMs by Thursday night. Stop by and say hi to Rich at the SQP booth.

August 5-7 -- Wizard World Chicago. Rich should be in Artist's Alley; we'll let you know for sure as soon as we do. (Meanwhile, unless you enjoy $15 French Toast, you may want to book a hotel a few miles away from the Rosemont Convention Center.)

September 2-5 -- Dragon*Con, Atlanta. More costumes in the hotel lobby at 2 in the morning than attendees at most other conventions. F&L is planning to be in the Art Show with many originals and prints. Look for Rich in the Artist Show or Artists Alley.

November 3-6 -- World Fantasy Convention, Madison, WI. If you want to hob-nob with fantasy writers, editors, publishers, booksellers, and one of F&L's true aesthetic antipodes, the great Kinuko Craft, this is the con for you. Rich will have a table in the Dealer's Room.

Rich will be sketching, and selling originals, books and prints at all cons. As always, free signatures on anything and everything, so bring along those old Many Ghosts of Dr. Graves.

Steve will be sequestered in Minneapolis, catching up on a backlog of painting assignments. Said backlog having occurred in part because...

Earlier this year, we moved our studios across town.

One of the great things about leaving a building that's a) housed a lot of art types for a long time, and 2) about to be gutted and turned into lofts, is the generosity knob gets turned up to 10. Lots of usable stuff gets left behind, and if you can haul it, it's yours.

"Usable" doesn't necessarily mean "good". We abandoned a massive, industrial strength Art-O-Graph (Google it, you youngsters) because we only used it a few times, and because trying to move it would likely have put at least one of us in the hospital.

Heavy industry once abounded in our former digs, and there was a lot of 40s and 50s tech just lying around. Intercoms, desks, file cabinets, shelving, a stat camera (again:Google)--all riveted together from nuclear-attack-grade sheet metal. Our landlord gave us a light table building-like enough to live under (an eventuality we artists always have to keep in mind).

One of Steve's longstanding holy grails is more storage for our originals. Specifically, flat files. Good ones are hard to find and expensive. Our upstairs neighbor and longtime friend, an always generous illustrator who now works exclusively in digital, let us have two. We trussed up and horsed those babies out of there.

We'd also accumulated 20 years worth of our own stuff, a lot of it equally unwieldy. Moving was a month's worth of Twilight Zone-like ineffectuality on our part, which was about 26 days more than our initial worst-case scenario.

But now F&L World HQ is safely ensconced on the eastern bluffs of the Mississippi, just off the main campus of the University of Minnesota.

(Where you'll likely find us volunteering for experimental research programs during our down time.)

1.8.05

Check out twelve new gallery images here.

12.17.04

It's virtually impossible to catch Steve and Rich together at the same convention.

While the latter is careening around the circuit, hawking product and living the high life in various Motel 6's and Comfort Inns, the former is almost always tucked away at F&L World Headquarters in Minneapolis, working on a painting. He's the JD Salinger of the airbrush (sans the hefty royalty checks. Or any royalty checks).

If you've got Easter Weekend (Mar 25-27) 2005 free, however, and you feel like spending it in glorious Minnesota (and at this point we realize we've lost 99.5% of you)--Fastner & Larson are scheduled to be Artist Guests at Minicon 40.

Everything you've heard about this fabled sf convention is true. Yes, during the glory years, it was a miracle no one was killed. And yes, lately, it's been the perfect convention to bring your parents to.

But with someone who (we know from personal experience) really knows what he's doing as the new con chair, and Terry Pratchett as Guest of Honor, that should change next year.

As a bonus, Minicon 40 moves from the fairly irritating downtown Hilton back to its original location, the then-Radisson South-now Sheraton Minneapolis, a hotel far better suited to enjoying Fandom's Rich Pageant.

We'll show a substantial number of large originals (including interesting non-babe material) in the Art Show, participate inarticulately in panel discussions, have a table in the Dealer's room at which you can at long last get Steve's signature on as many items as you can haul in, and probably fail to behave as we ought at late night room parties.

If you were thinking about possibly attending anyway, we hope this pushes you over the edge. One way or the other.

F&L's Little Black Book Vol. 2 is a "Bud's Best" pick ("Out of all the new and coming items in this catalog, these impressed Bud the most...") in Bud Plant's latest (Winter 2004-05) Incorrigible Catalog. If you're ordering other naughty stuff from this disreputable publication, you can also pick up LBB 1 and 2, and Haunted House of Lingerie 2 and 3.

F&l provided the cover for Nick Pollotta and James Clay's new Victorian fantasy/adventure, That Darn Squid God, published earlier this year by Wildside Press.

The Squid God painting took "Best Alien" in this year's
Dragon*Con Art Show.

Four new Wildside editions of novels in Pollotta's Bureau 13Doomsday Exam, Judgment Night, and Full Moonster, also sport F&L covers. series, including

If you're into RPG's and/or biker babes from Hell (and doesn't that just about cover the male demographic?), we've just created this image for Blue Devil Games.

Rich has an ink-and-computer drawing in Andre Duza's extremely disturbing new Deadite Press horror novel, Dead Bitch Army. You may want to pick this one up before the new Attorney General is sworn in.

11.07.04

Embarrassingly, we started putting this website together on April 4th.

But then, we have trouble building tacos. If you remember the hominid and the obelisk in 2001, flailing around with a thighbone--that's us and computers.

People have been asking about an F&L page for a few years now, to which our standard reply has been, "We're waiting to see if this whole 'internet' thing works out."

Since the web doesn't seem to be going away, and since the window of opportunity for making hugely stupid money on it has pretty much closed (standard F&L criteria for any undertaking since day one), here we are--with substantial assistance from SQP co-publisher and web doge Bob Keenan. The check is in the mail, Bob.

Convention season is almost over (for us, anyway--we have a lot of work to do between now and May or so, and between the snow, cold and dark here in the frozen tundra, we're going to be too depressed for anything else), but eventually this page will list the half dozen or so shows we'll do in 2005.

As far as upcoming publications and products are concerned, we're usually among the last to know (it's always a thrill to walk into Barnes & Noble and find a painting we did several years ago staring back at us from a new book cover). If we find out about them, we'll let you know here, also.

We're among the eight people in the world who don't have cell phones (see above). Nevertheless, a selection of F&L images have been made available as screensavers for these unholy devices, and you can check them out here.

In the 80's, we worked on a series of Marvel superhero portfolios, including the Hulk. X-Men and Spider-Man. We also finished paintings for the Fantastic Four (you can see one of them in Little Black Book Vol. 2, and a sketch for another on the Gallery page here), and a grayscale marker study for the Avengers.

Those last two portfolios were never published, but the Avengers image turns up on the cover of the November issue of Roy Thomas' Alter Ego.